Synopsis:
It's just a small story really, about among other things: a girl, some words, an accordionist, some fanatical Germans, a Jewish fist-fighter, and quite a lot of thievery. . . .




Set during World War II in Germany, Markus Zusak's groundbreaking new novel is the story of Liesel Meminger, a foster girl living outside of Munich. Liesel scratches out a meager existence for herself by stealing when she encounters something she can't resist–books. With the help of her accordion-playing foster father, she learns to read and shares her stolen books with her neighbors during bombing raids as well as with the Jewish man hidden in her basement before he is marched to Dachau.




This is an unforgettable story about the ability of books to feed the soul.
I figured I had to pick this book up when I saw it because it is so well liked throughout the book community. I didn't really know why, and I didn't know what to expect. I didn't even know what it was about.
Normally, I shy away from books about the holocaust, because I was forced to read so many during school and I just needed a break. But . . . I bought this book without reading the synopsis, so I didn't really have a choice. I am glad that I broke my rule for this book.
It was gripping. It was sweet. It was heartbreaking. It had a little bit of everything including a really unique POV.
All of the characters in The Book Thief are great. They are all central to the story and really make it work.
This book made me cry harder than any book has in a really, really long time.
This is just a beautiful book that I would label as a must-read.
Memorable Quotes: "When she came to write her story, she would wonder exactly when the books and the words started to mean not just something, but everything."
"Even death has a heart."
"He must have longed for it so much. He must have loved her so incredibly hard. So hard that he would never ask for her lips again and would go to his grave without them."
"One was a book thief. The other stole the sky."
"Humans, if nothing else, have the good sense to die."
"She was still clutching the book. She was holding desperately on to the words who saved her life."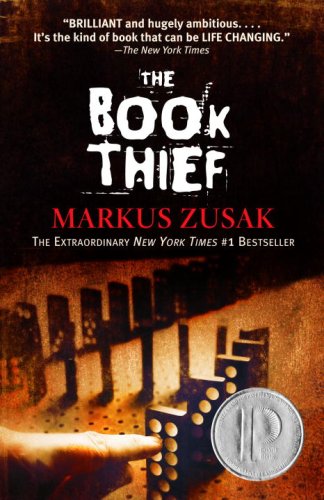 Click To Purchase!