On a warm summer morning in North Carthage, Missouri, it is Nick and Amy Dunne's fifth wedding anniversary. Presents are being wrapped and reservations are being made when Nick's clever and beautiful wife disappears. Husband-of-the-Year Nick isn't doing himself any favors with cringe-worthy daydreams about the slope and shape of his wife's head, but passages from Amy's diary reveal the alpha-girl perfectionist could have put anyone dangerously on edge. Under mounting pressure from the police and the media—as well as Amy's fiercely doting parents—the town golden boy parades an endless series of lies, deceits, and inappropriate behavior. Nick is oddly evasive, and he's definitely bitter—but is he really a killer?
I am just going to start by saying I loved this book. I. LOVED. THIS. BOOK.
I would go as far as to say this is now my favorite book.
It took me awhile to publish this review because I didn't think that any thing I wrote would do it justice.
Gone Girl is like two complete novels all in one. It starts out going one way and midway through turns completely around. I am going to write this review spoiler-free and put some spoilers under the cut. It was too great I do not want to spoil anything if you have not read it.
Gone Girl takes you through a spiral into insanity. How a person can go from seeming so normal to turning into a dark sociopath. It takes you down this journey through a series a journal entries written by both Amy and her husband Nick. You get to hear both of their points of view which makes the story-telling and flow of the novel really interesting.
It is an interesting story about how a relationship can go from perfect to dark and gloomy. From loving someone to wanting to destroy them.
Gillian's writing is completely addicting. I didn't want to put the book down, and when I did put it down I was always thinking about it. Trying to guess what was going on and what would happen next.
Reading Gone Girl is a full on experience. It isn't just another book to read through quickly and then let it collect dust. I actually read it slower than most other books just because I was soaking in everything.
If you like mystery/suspense books, do not hesitate to read this.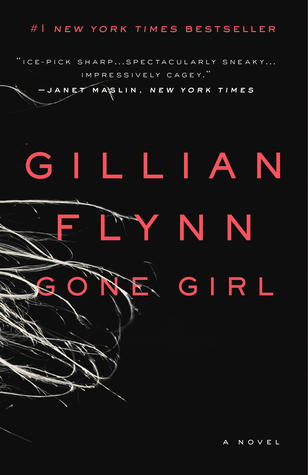 The whole first half of the book had me questioning Nick's innocence. He seemed innocent to me at the beginning and as it went on, it seemed like his innocence was being unraveled, and he was coming undone at the same time.
That was really the beauty of this whole novel. It leaves you guessing, sometimes rooting for Nick, and sometimes hating him.
Then the second half begins and we figure out it was Amy's plan all along to frame him for murder. I almost threw my book down when I got to that part. Maybe I am alone in this, but I didn't even guess that was going to happen. I was completely shocked.
When it got to the end and he decided to stay with her because he didn't know what life would be like without Amy, I was completely frustrated. But that is what this book was meant to do. It was meant to illustrate pure insanity.